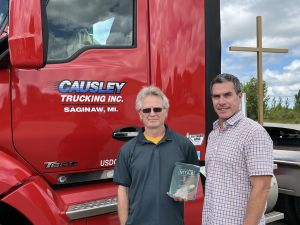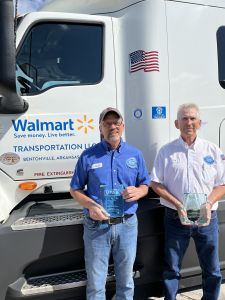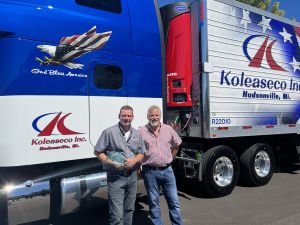 Safety on the Road/Fleet Safety Awards
Each summer, MTA goes on the road to honor drivers and companies that have excelled in promoting and maintaining a culture of safety.
Driver of the Year
MTA's Driver of the Year is awarded to an individual driver who has been nominated by his or her company. Each nomination is scored by third-party safety personnel based on accident record, over-the-road mileage, customer service and professionalism. The driver receiving the highest score is recognized as Driver of the Year. Awards are presented at the drivers' terminals so they may share their recognition with their peers
Fleet Safety Awards
MTA member carriers operating three or more vehicles or combination of vehicles are eligible to receive a Fleet Safety Award. Based on Michigan-only operations, fleets compete based on number of accidents and mileage. Awards go to fleets with lowest frequency rate in each category.  The Excellence in Fleet Safety Grand Champion award is then presented to one of the companies based on miles driven, number of accident-free miles and specific best practice safety protocols undertaken by the company.
Companies are recognized in nine categories:
General commodities-local
General commodities-intercity
Household goods
Vehicle transportation
Heavy haulers
Tank truck
Oil haulers
Private carriers
Miscellaneous
Maintenance Technician of the Year
Maintenance Technician of the Year honors those persons that keep your trucks rolling 24/7. Their due diligence is vital to your company's operations and profitability. Based on performance and work ethic, one technician will be chosen from among the field of outstanding nominees.
Safety Professional of the Year
Safety Professional of the Year is the highest honor MTA bestows upon a company's Safety Director. These individuals are dedicated to the welfare of their drivers, company and the motoring public, all of whom are directly affected by their actions.
2022 Safety on the Road Sponsors